IRCTC offer: Good news for the railway travellers! The online ticketing company IRCTC (Indian Railway Catering and Tourism Corporation) has introduced cashback offers for all the passengers who wish to book the train tickets via the IRCTC portal. The ticketing platform gives the iMudra facility to the customers where they get a digital card for payment and online shopping.
There is currently cashback offers on this iMudra digital cards.
As per the information of the iMudra App, IRCTC is giving cashback offers on transactions made through the VISA and RuPay cards. The users of the iMudra App can avail cashback offers up to Rs 2000. The information has also been given by IRCTC on its official Twitter Handle @IRCTCOfficial
As per the tweet, if a customer uses the iMudra App and makes transaction over Rs 5000, through VISA and RuPay cards, then a cashback up to Rs 2000 could be availed.
See Official Tweet Here: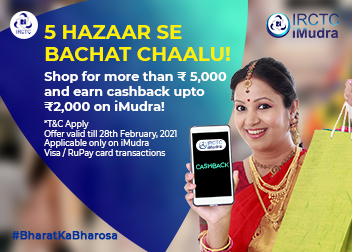 Know till when the IRCTC offer lasts!
The offer being given by the IRCTC is valid till 28 February. In case you want to take advantage of this limited period offer, then you should start paying on iMudra with VISA and RuPay cards. The card has been launched in association with the Federal Bank. You can put money in the wallet through debit card, UPI card or credit card.
Relief on MST
Meanwhile for the train passengers, the Indian Railways has not only ensured that the trains start operations, it has also taken care of the losses of the passengers because of the lockdown.
In the latest relief, the Indian Railways has allowed extension of the March 2020 Monthly Season Ticket (MST). You can visit the Railway booking window to get the extension done. All the days, that the passengers were not able to travel in the previous year, they can do it now.
Source:- zeebiz